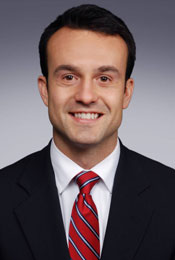 Joseph E. Howie
Senior Vice President
vCard: Joey Howie
---
Joey is a Senior Vice President of ICON Commercial and joined the company in 2010, structuring and negotiating commercial real estate transactions for office, industrial & investment properties. He currently works on a team servicing over a dozen national clients as well as numerous local transactions on a yearly basis. He specializes in corporate advisory services and creative real estate solutions while managing portfolios of office and industrial facilities for ICON's corporate clients. His success comes from his ability to learn quickly, listen to the needs of his clients, and guide them through the entire process in order to meet their goals.
Raised in Savannah, GA, where he graduated from the Savannah Country Day School, Joey enjoys traveling to visit his family there, as well as Chicago and Boston. Joey played varsity soccer at Emory University and served as President of his Fraternity, Sigma Chi. He continues to serve both organizations in an advisory role today. He likes to spend his free time playing soccer, walking 18 holes, riding his motorcycle, and attending local theater.
---
Clients Represented
AHC Media & Publishing
BlueRidge Technologies, LLC
Det Norske Veritas
EcoLab
Logisticare
Mach 1 Global Services,  Inc.
Primary Capital Advisors
Semrad & Associates, LLC
Softchoice Coporation
Summit Marketing
Titus Accounting
---
Education / Certifications
Emory University – B.A. Economics (Real Estate concentration)
State of Georgia Real Estate License
Greater Atlanta Commercial Board of Realtors
Young Council of Realtors